Issues - Environment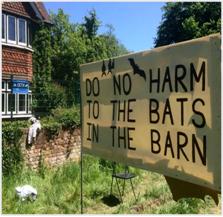 We think Wendover is a special sort of place. It's a community with a large conservation area adjoining an area of outstanding natural beauty (ANOB) in a beautiful part of the Chilterns. There is no doubt that the HS2 line when completed will leave a permanent scar on the landscape, with trees and hedgerows decimated. We will need to ensure that HS2 do all they can to rectify the problems they create with landscaping and replanting of trees etc. The visual approach is a key area of concern for us and we are working hard to seek mitigations to ensuring technical designs are sympathetic to the surrounding environment.
HS2's construction activities are constrained by the Code of Construction Practice which is interpreted for the Wendover Area by the Buckinghamshire Local Environmental Management Plan. If you see things happening locally which contravene the policy, please take a photograph and report it as a "Complaint" to the HS2 Helpdesk by phone on 08081 434 434, or by email at HS2enquiries@hs2.org.uk and ask for a case reference number.