Issues - Water (Hydrogeology)

This is a major concern.
Coombe Hill and the surrounding elevated land acts as a large 'sponge' (called an aquifer) soaking up rain water. This sponge then 'leaks' out the water and it currently feeds the canal and the Weston Turville Reservoir.
HS2's plan in the area is to cut through the Coombe Hill Aquifer. At the time we petitioned in the House of Commons back in 2015, hydrogeological investigations undertaken for the Wendover Parish council showed that the 80m wide, 20m deep cut that will be made to build the green tunnel and North Cutting will irreparably damage the aquifer.
The result is that the springs that feed the Weston Turville Reservoir SSSI and the Wendover Arm canal are likely to be starved of water which will be diverted down Stoke Brook towards Stoke Mandeville and Aylesbury. This in turn is likely to resulting in increased risks of flooding and the reservoir will be irreparably damaged.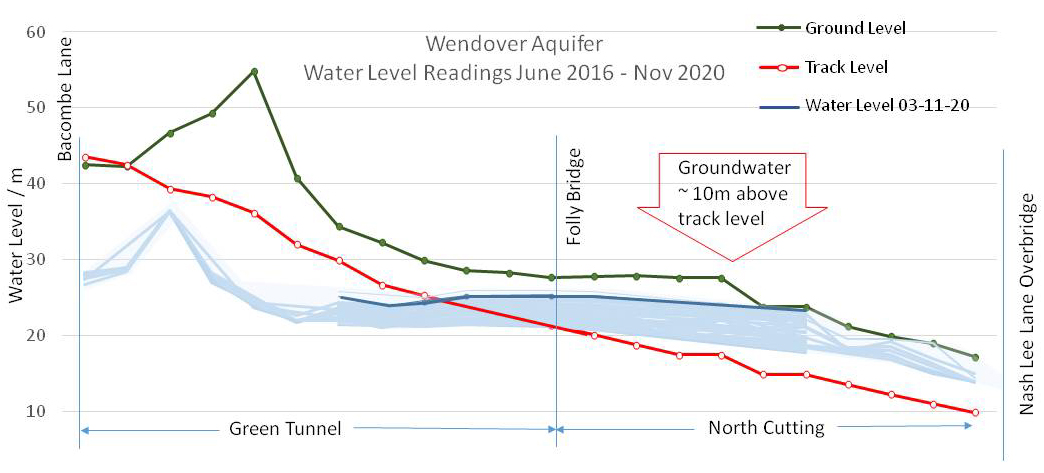 Measurements show the track level will be up to 10m below the ground water level, so the excavation will inevitably flood unless it is lined. This is why we are seeing many test rigs at Wellwick Farm. Wendover have been actively campaigning for mitigation to be built into the design and whilst HS2 have belatedly realised there is a problem they still refuse to acknowledge they need to change the design!
Based on the current design, the contractors would need to line the cutting which will be expensive. The best technical solution remains constructing the mined tunnel so as not to disturb the ground through which the ground water flows. Since this has been refused, Wendover HS2 are suggesting a retained cutting (a cutting with vertical or near-vertical sides) which will greatly reduce the amount of tanking needed.
Part of the assurances of the HS2 act require that the impact on groundwater is minimised and there should be no increase in flood risk. One of the main parties who can influence the delivery of these assurances are Buckinghamshire Council to whom HS2/EKFB have to make what is known as a schedule 17 design submission. This is due to be submitted early in the new year. However, the council are limited in resources and are not responding as robustly as we would like.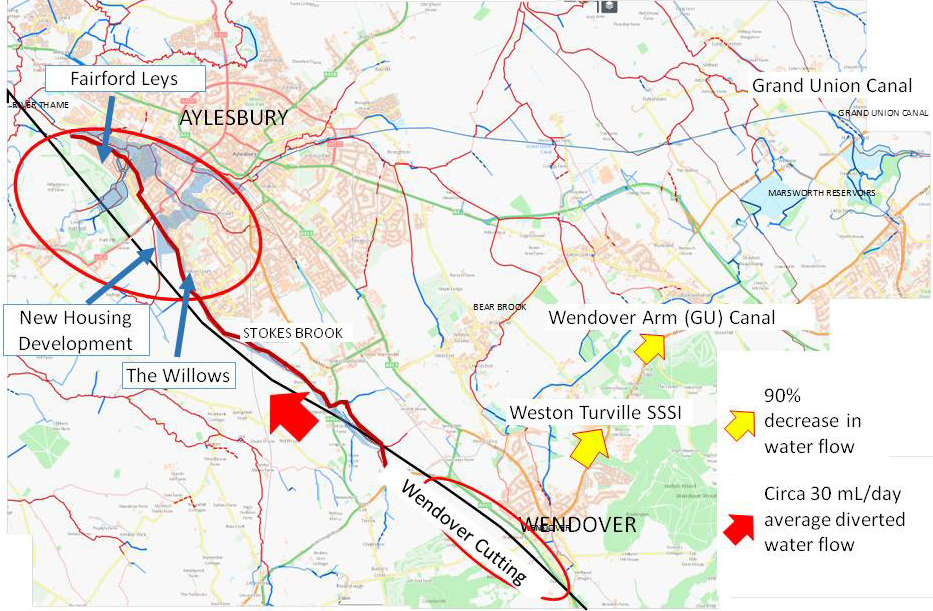 Our concern is that if the council do not respond to the design submission robustly, then we will lose the opportunity to protect Weston Turville Reservoir SSSI and the canal for ever. Worse, we will see increased water flows down Stoke Brook leaving the new housing in Aylesbury to face the flooding.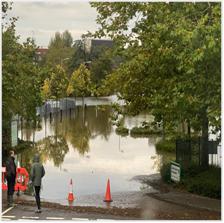 In the past few months we have been engaged with the Environment Agency (EA) on this matter and also the HS2 contractors. The EA are now carrying out water testing and measurement to determine the amount of water in the aquifer and we await the results.
A presentation given to the councillors is available here.